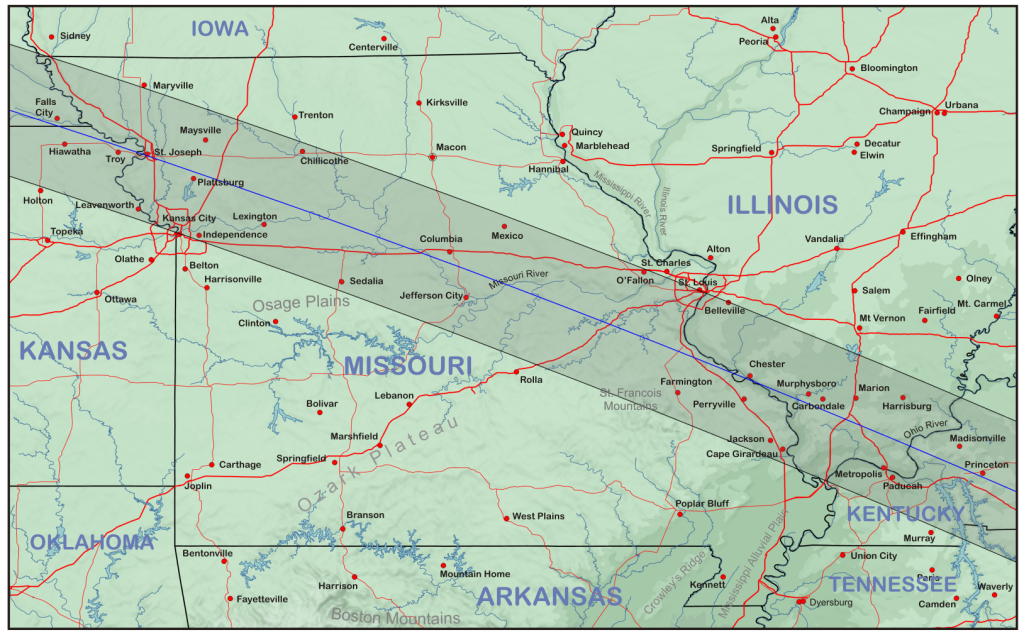 From Kansas City to St. Louis to Nashville, the umbral shadow passes across the flattest portion of its trip across the United States—a lowland transit shaped by the flood plains of the Missouri, Mississippi, and Illinois Rivers. Cloud cover is barely touched by the underlying terrain; it is instead controlled by the ready availability of sub-tropical moisture from the Gulf of Mexico, which becomes more entrenched as the eclipse track moves to the southeast. There is only a small difference between average cloud amounts in morning and afternoon and the small ups and downs of the cloud graphs are probably related to the albedo of the underlying terrain (forests or fields).
The only significant elevation is found in southeast Missouri, where the south side of the track skirts the Ozark Plateau and then passes over the 500 m-high St. Francois Mountains before descending onto the floodplain of the Mississippi and Ohio Rivers, where elevations are about 400 m  lower (Figure 1).
Surface-based observations at airports along the track show a relatively even August cloudiness that ranges between 48 and 58 percent but without any trend along the eclipse track. Sunshine measurements disagree, showing 10 percent more August sunshine at Cairo, IL, than at Columbia, MO. From the satellite viewpoint, the highest cloud levels on the central line occur south of St. Louis, near Festus, which is probably showing the influence of the nearby St. Francois Mountains.
This eclipse must favour Illinois, as the central line makes no less than five Mississippi River crossings, entering and leaving the state twice before committing to the short 120 km passage to Kentucky. At this point, the track has reached the confluence of the Mississippi and Ohio Rivers, moving across the Big Muddy Watershed to Carbondale, where cloudiness decreases by a modest 5 percent. It is a propitious location, for Carbondale lies at the point where the eclipse track of 2024 crosses that of 2017. The little bit of extra August sunshine recorded at Cairo in Table 1 implies that the Carbondale region offers a small advantage to sun-seekers on eclipse day.
During August, hot and humid weather from the Gulf of Mexico is entrenched over Missouri and Illinois. Afternoon temperatures average close to 90 degrees and relative humidities hover near 50 percent. Such energy-sapping weather often persists for days, but in late August, relief comes irregularly when cool and dry airmasses push southward from the Upper Midwest and Canada to bring a break in the sultry weather. These conditions are important elements in thunderstorm development. By August, the frequency of severe storms at least is much less than at its peak in May and June; tornadoes are quite uncommon.
Click on a destination to see the weather for other states:

Updated December 2016